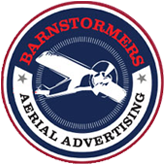 Effectivenesss Of Aerial Advertising or Banner Ads
Aerial advertising is an extremely cost-effective method to reach otherwise isolated pockets of consumers (such as people stuck in rush-hour traffic, or at the beach, where advertising tends to be limited).The CPM of aerial advertising is less than $6. Aerial advertisements give a company the opportunity to target specific customers based on their geographical location and demographics. Because of the highly visible nature of most aerial advertisements, proponents also point out that potentially large numbers of people can view an advertisement at once.
Studies by advertisers have shown that mobile billboards carried by aircraft have a high consumer recall and retention rate— in other words, customers who see the ad tend to recall the message or product being displayed at a higher rate than with most other forms of advertising, but the region where the advertisement is displayed is limited to the flight path of the aircraft. The reason for this higher retention rate is due to the relatively unusual method in which the advertisement is displayed; the novelty of seeing a message in an unfamiliar way helps consumers to remember the message.
The Real Numbers!
When you hear an airplane you instinctively look up. That is what makes this form of advertising so effective. Aerial advertising reaches people away from home and work, generally in an environment where they are relaxed. Few forms of media have access to such a receptive audience.
88% Of the people surveyed recalled the passing of the banner within the last 30 minutes.
79% Of the people surveyed recalled what was advertised.
67% Of the people surveyed could recall at least one-half of the message.
Literally hundreds of thousands of prospects can be reached at a cost of less than $5 per thousand! Aerial advertising is four times more cost effective than print media!
When the State of Maine instituted a lottery, over $100,000 was budgeted to promote awareness of the lottery using a wide variety of media.

Questionnaires compiled for the State Commerce Department by Northeast Marketing of Yarmouth showed that during the campaign 70% of the people sampled were aware of the lottery.
The Barnstormers Difference
We have been towing airplane banners for over 30 years while flying for very succesful regional businesses all the way to fortune 500 companies. One thing these companies all have in common is the understand the effectivness of Aerial Advertising. If you want to get out in front of your competition today, call us now to give it a try!
866-458-1268