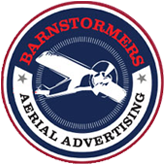 Myrtle Beach Aerial Advertising & Banner Tow BarnstormersAerial Advertising LLC is the largest Banner Advertising company in the United States. We have created marketing packages in the air for some of the top industries and companies in the world, for more than 35 years.

Barnstormers maintains, owns, and operates the largest fleet of banner planes in the U.S. as well as the entire world.

Whether you need a banner to ask your girlfriend to marry you or you need a turn key marketing package for your fortune 500 company, we have done it!
Who Uses Us To Get Their Message Out?
Professional Sporting Events
Barnstormers Aerial Advertising flys banner campaigns for NFL games, Major League Baseball, College Football games, college baseball games, and other local sporting events. One of our biggest consumers of banner advertising is Nascar Event Sponsors.
Special Aerial Advertising
We are your source for banner advertising in any special occasion. We fly banners for marriage proposals, birthdays, anniversaries, new birth celebrations, graduations, and any other special occasion you can dream of no matter how small.
Beach Aerial Advertising
Our biggest campaigns take place at Americas beach front destinations. There is simply no better avenue to reach potential customers than when they are relaxing on the beach during a family vacation.

Myrtle Beach Area Savings Also A Part Of Barnstormers Aerialo Advertising

The Banner Book was created to introduce the many attractions and businesses to vacationers to the beautiful beaches of the Grand Strand area of South Carolina as well as re-acquainting the annual visitor to the area.